BodySlims Worldwide
Our online programme, run on Wednesdays.
Login for BodySlims Worldwide
Login will be available from the weekend preceding the start of the programme for those booked

Grilled Shrimp Skewers Recipe
Feb 15, 2023, 16:02 PM by Nicai de Guzman
Grilled shrimp skewers are a popular dish that originated in Mediterranean cuisine. The dish typically consists of marinated shrimp skewered on a stick and grilled to perfection. Shrimp is a low-calorie and low-fat protein source that's rich in omega-3 fatty acids, which can help support heart and brain health.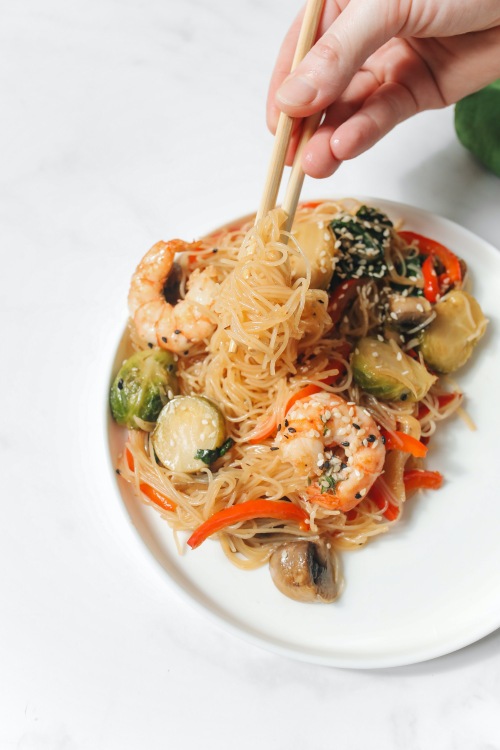 Grilling the shrimp can also help retain its nutritional value while adding a delicious smoky flavor. The marinade used in the dish, which typically includes herbs, citrus, and olive oil, can further enhance the flavor while also providing additional health benefits. Overall, grilled shrimp skewers are a healthy and delicious meal option that's perfect for a summer barbecue or a quick weeknight dinner.



Ingredients you will need to serve one person
50g raw medium shrimp, deveined & tail on (35 cal.)
1 tbsp extra-virgin olive oil (120 cal.)
1/2 garlic clove, grated -
1/2 tbsp lemon juice -
1/4 tsp oregano, dried -
Pinch of salt -
Ground black pepper, to taste -
TOTAL CALORIES: 155
Cooking Instructions
If using wooden skewers, pre-soak for 30 minutes. Thread shrimps onto skewers, about 5-7 per skewer.
In a small bowl, add olive oil, garlic, lemon juice, oregano, salt, pepper and whisk. Brush each shrimp skewer on each side with the glaze and place onto a platter.
Preheat oven in grill mode on medium heat and lightly oil a baking tray. Place shrimp skewers on it, quickly brush with half of the glaze and grill for 2-3 minutes. Flip, brush with remaining glaze and grill for 2 more minutes or until no longer transparent and pink.
Serve warm or cold.
TOTAL COOKING TIME: 15 mins